The popularity of the hit shows Cupcake Wars and DC Cupcakes, along with the coast-to-coast bakery chain Sprinkles have created a cupcake craze around the country. There is no better way to celebrate than to crawl through San Diego from shop to shop.
This new sect of dessert pop culture has been the mother to new words like "cupcakery" and has taught customers all about ganache toppings and buttercreams. Their new found infamy has elevated them from their school fundraiser staple status, bringing cupcakes up to par with wedding receptions and swanky bar desserts.
At many cupcakeries, cupcakes come in both full-size and mini versions, making it easy to try multiple varieties in a single batch.
Of course, the most efficient form of travel is driving, not crawling, but after a few rounds of these sugary little wonders it may not be safe to get behind the wheel.
Story continues below advertisement
If you are brave and unafraid of the possible diabetic fit, you can choose to hit up all of these spots in a single day or check them out one at a time over the course of a few weeks.
Regardless of the time frame, prepare to find cupcakes that are more sophisticated than those that your mom sent you to the bake sale with.
Round 1: Heavenly cupcake
If you get a sugar craving when walking the streets of the Gaslamp District, check out the angelic delights that reside in the charmingly retro Heavenly Cupcake, located at 518 Sixth Ave.
Heavenly Cupcake takes pride in using high quality products, such as Felchlin Swiss chocolate and Nielson-Massey Madagascar vanilla, and the superiority of their ingredients shines through in the flavor of their cupcakes.
Some of Heavenly Cupcake's varieties are available every day – including the chocolate, vanilla caramel and red velvet – but many of the other flavors are only available a couple days a week. The schedule is available online, so you can knowingly stop in to try out a new cupcake.
The new pumpkin cupcake with cream cheese frosting is the perfect way to gear up for autumn. Close your eyes and you can imagine hot apple cider, Halloween costumes and Thanksgiving dinner.
The orange chip cupcake is a pleasant and brightly flavored cake, dotted with chocolate chips and topped with a rich, chocolate buttercream frosting. This dessert is truly a godsend from cupcake paradise, crowned with their signature marshmallow fondant halo.
In addition to their fun and tasty menu, Heavenly Cupcake also sells "pupcakes" that are healthy and delicious treats that you can share with your dog.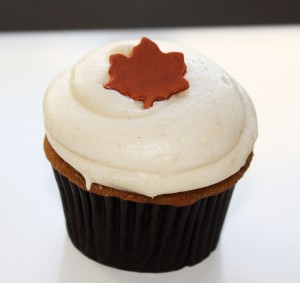 Round 2: Frosted Robin Cupcakes
Frosted Robin Cupcakes – in its Spanish-style villa – gets extra points for being an adorable tea party spot, located in Seaport Village at 859 W. Harbor Dr. #B.
The robin's egg blue walls and Victorian furniture inside transports its customers to a time when the ladies and the gentleman dressed up, used their manners and sat on the veranda for afternoon tea.
Besides the quaint décor, the cupcake menu at Frosted Robin is unlike any other found in San Diego. Though the classic vanilla and chocolate varieties are present, there are also some unique flavors that have been orchestrated to perfection.
The lavender cupcakes with a lavender scented, mousse-like frosting are sweet without being overly floral – definitely a fun break from the norm.
The Cayman cupcakes feature a slight cinnamon and nutmeg spiced cake topped with a cinnamon, nutmeg and coconut mousse frosting.
Chocolate dipped robin's egg desserts take a ride on the coattails of the cake pop bandwagon, but Frosted Robin makes this little treat their own. Try the Oreo cake, dipped in milk chocolate and drizzled with white chocolate for a tasty snack.
To accompany your dessert, try one of their freshly brewed, loose leaf teas or a caffeine-fueled espresso drink.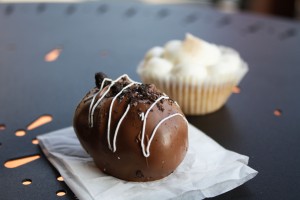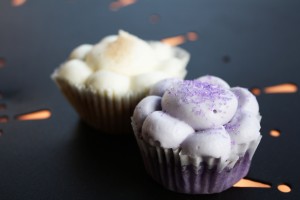 Round 3: PubCakes
For those who have ever fantasized of dunking pieces of cupcakes into beer, but changed their mind at the thought of eating a soggy dessert, then PubCakes is a must try spot, located on 7229 El Cajon Blvd.
PubCakes was started by San Diego native Misty Birchall when she decided to make a spinoff of the popular Irish Car Bomb drink in cupcake form for a friend's birthday. The Guinness cupcake with Irish cream frosting and chocolate whiskey ganache was unanimously loved, which inspired her to begin cooking up other beer infused desserts.
Soon thereafter, Birchall began peddling her wares to micro beer spots, and now runs her bakery out of Treehouse Coffee Company, where customers can find cupcakes made with their favorite beers.
The spicy-sweet and oh-so-addictive Top Ten Cake is a devilish blend of Karl Strauss Tower Ten IPA with cayenne infused caramel and cherry buttercream.
Since it's probably best not to start the day off with a pint of ale, you can have Beer for Breakfast in the combination of AleSmith Wee Heavy and bacon with a maple cream cheese frosting.
Orders can be placed in advance for batches of a dozen or more, but you can also pop in to grab a quick treat while sipping Treehouse's coffee and relaxing in the rustic café.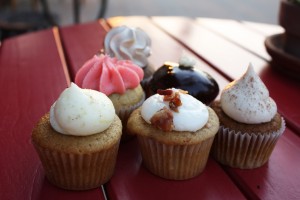 TKO: Babycakes
No longer just an endearing name for your sweetheart, Babycakes is now a hip spot to grab drinks, dinner and to nibble on a tasty cupcake, located in Hillcrest at 3766 Fifth Ave.
The dessert menu at Babycakes is balanced out by meatloaf, grilled cheese and other savory entrée choices. If you want to defy the nutritional teachings of your parents, you can make a meal out of desserts instead.
Two of the cream cheese frosted favorites are the classic red velvet and blood orange cupcake – an orange cake with berries and a blood orange center.
For those that require a bit of rich, chocolate decadence in their dessert, the tuxedo, chocolate-raspberry and mocha varieties will satiate even the most voracious chocoholics.
The pomegranate cupcake is not worth the money or the calories. The piped flower frosting on it gives it the cute factor, but the cake is dry and flavorless and the buttercream is bland.
Unlike many cupcakeries, Babycakes features a number of dessert inspired cocktails that are perfect for washing down their snacks. The Pee Bee & Jay shot, for example, pairs well with a chocolate-peanut butter cupcake.
Babycakes is also a fun brunch spot on the weekends and hosts Sunday "Church" specials after 3 p.m., where patrons can listen to a guest DJ while enjoying happy hour prices.