New Sonic opens just minutes away from campus
It's finally here!
Many San Diegans, young and old, are excited about the brand new Sonic that opened in Kearny Mesa on Feb. 24.  Even though this is not the first Sonic to open in San Diego County, it is the only one that does not take a half hour drive to get to.
Located 10-15 minutes away from campus, Sonic makes studying for exams and typing up dreadfully long essays somewhat bearable. Once one crosses over Interstate 163 on Clairemont Mesa Boulevard, they can see the colorful sign in the air as if it were signaling the way to fast food paradise.
To start off the experience, there are three options: dining in, waiting in a long line for the drive-thru or trying to find a car stall, the latter of which includes a huge menu, a red button to push when ready to order, and a place to swipe your form of payment. When there's time to waste and a car full of indecisive foodies, the car stall is the optimal option. If this is the way of the future, nobody's complaining.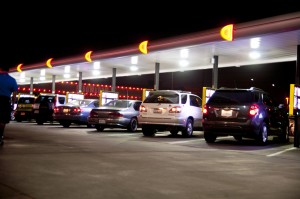 When dining in, expect to wait a long time. Since this location is fairly new and open until midnight, it can be a target for partying teens and people with late night food cravings. High volumes of people mean the process of satisfying hunger is not going to be a quick one. Perfection takes time, so please be nice and try not to complain. No one likes a whiner, especially the rushed roller skating employees.
The menu itself ranges from burgers and hot dogs to mouth-watering Sonic Blasts, which some might refer to as a milkshake on steroids. Some crowd favorites include the Chili Cheese Pretzel Dog (as a 6-inch or a foot long), Breakfast Toaster, and Cookie Dough Master Blast. One customer was overheard asking a cashier what kinds of drinks Sonic offers, to which she responded, "We have over a million of them." Yes, somehow that is possible.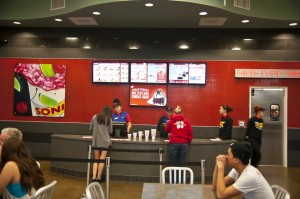 Craving some bacon and eggs at ten o'clock at night? No worries! Sonic serves breakfast all day, not to mention every combo has a choice of fries or tots. Yup, even lunch/dinner combos offer that same option, or for an additional charge, sweet potato tots. They exist! Dieters might want to avoid this place since it is open seven days a week until midnight. It is safe to say that this is where New Year's resolutions come to die.
For San Diegans that live in East County but still feel that the Santee location is quite a bit too far, hold on for a little bit longer! According to their website, a new Sonic is coming soon to El Cajon Boulevard in addition to a new one opening in National City on Highland Boulevard. Even though there aren't any grand opening dates posted, these new locations look promising.