Measure C raises questions over taxpayer's risk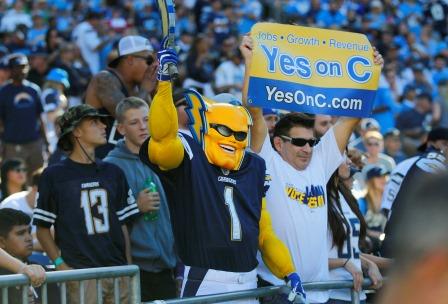 Hang on for a minute...we're trying to find some more stories you might like.
Councilman Chris Cate and stadium advocate Dan McLellan, argue over Measure C—The San Diego Chargers Stadium/Convention Center Initiative.
Cate and McLellan met with 10News anchor Kimberly Hunt in late October to discuss Measure C. The proposed measure seeks two-third voter approval, on Nov. 8, for the construction of a new stadium/convention center in downtown San Diego. The new facility would host the San Diego Charger as well as multiple convention events throughout the year.
Proponents of the measure estimate the grand total at $1.8 billion and if the initiative passes San Diego will be responsible for raising $1.15 billion of that cost. The measure calls for the raising of hotel taxes in San Diego, from 10.5 to 16.5 percent. The city will use $350 million of that expected tax revenue to purchase bonds, which it will then resell, to raise the remainder of the $1.15 billion.
Combined, the NFL and the Chargers have committed $650 million to the project, in addition to an agreement that the Chargers remain in San Diego for a period of at least 30 years.
McLellan, who was arguing in favor of Measure C, explained that the new stadium will provide a "much needed non-continuous expansion of our Convention Center." He said that it will allow Comic-Con to expand as well as attract new conventions. Since the new facility will be non-continuous, it will allow one convention to set up while another is breaking down, which McLellan expects will keep the hotels busier than usual.
McLellan's third point in the opening argument was that the initiative will legalize San Diego's, tourism and marketing district tax. He said that the hotel tax that is currently in place, was never voted on and is "likely, highly illegal." McLellan said that there is a "new lawsuit threatening this tax, that's going to ask for full reimbursement," and three-times penalty against the city of San Diego. He said that this is a liability to the city's general fund of over 10 million dollars a month.
Cate, who was arguing against Measure C, had a main concern for the risks and financial burdens associated with the new stadium and how they fall exclusively on the taxpayers. He said that the city is going to be saddled with 2 billion dollars in debt with few benefits in return. Cate said that the measure was drafted by the Chargers and Dean Spanos without input from the city, local neighborhoods, or neighbors that live in that area.
Moreover, Cate explained that there will be no revenue generated from hosting other conventions and events. He said "all of that revenue that comes from those events do not come to the city in [any] way shape or form."
Replacing Tailgate Park and relocating the MTS bus yard are additional unknown cost that are strictly the burden of taxpayers. Cate says, ". The risk for all of this falls back to the city and taxpayers. We are going to build a project without any cost and design, [or] anything that would have to go forward on a major infrastructure project. Voters and taxpayers have no idea what they are getting."
A "side letter," signed by mayor Faulconer addressed some of the major concerns posed by those against Measure C: revenue from non NFL events, stay in San Diego until the debt is paid off, reimbursement cost, replace parking, and quality of life issues.
Cate said that the letter only serves to demonstrate the problems with the proposed measure, which should have been addressed by the city and taxpayers before it was put to vote. Cate said the letter has no legal authority and the legal language that is in the measure is the language that will be signed into law. The concessions in the letter, he said, essentially undoes what voters are actually voting for. McLellan, responded by saying that if you read the measure you "might come to the conclusion that it really wasn't a concession letter at all." He said he spoke to mayor Faulconer a week prior and that he gave him his "word" that the provisions in the letter will be carried out.
According to Ballotpedia, an independent analysis sourced by the city found that Measure C could cost taxpayers over $2.3 billion over 30 years. They say "Four independent analyses all reached the same conclusion," that the increased hotel tax may not cover the cost—Which The City's Independent Budget Analyst believe will incite the city to use tax funds that would otherwise be used for safety and other vital services in San Diego. (Ballotpedia)