SoCal Farmers Produce Free Produce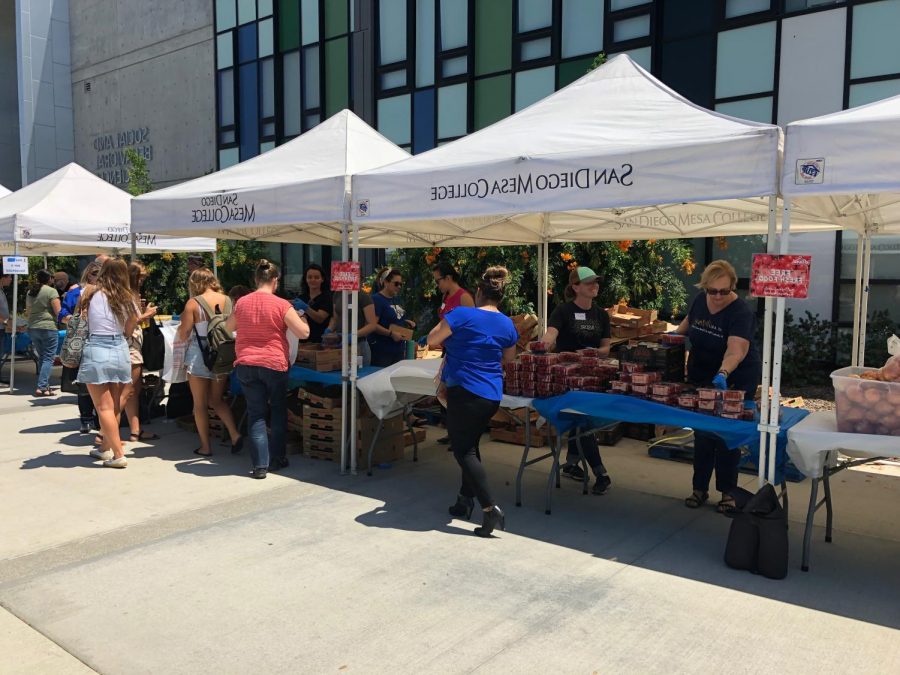 If you are shopping at your local farmers market you would expect to bring money to pay for your goods.  But not so, at the monthly farmers market at SD Mesa College, where all fresh produce are free to students, staff, faculty and administrators.
Open on the third Thursday of each month at 12:00 p.m., to the SD Mesa College community, which includes the nearby Continuing Education – Mesa College campus, the farmers market offers a variety of fresh produce.  
Produce at the farmers market varies based on what is in season.  At the last farmers market the selection included, tomatoes, corn, onions, honeydew melons and strawberries.
A partnership between Feeding San Diego and SD Mesa College, the farmers market, which uses student volunteers to distribute available offerings on market day, is conducted by an on campus program called The Stand, whose motto is "Taking a stand against hunger."    
"The State of California does not have a food problem, said Johanna Aleman, Coordinator of The Stand, it has a distribution problem."
The Stand's mission statement in part is,"to help alleviate food insecurity on campus…, and [provide] access to professional clothing to help students succeed."
The Stand, located on the second floor of the student services center, I4-204, also offers other food items, such as granola bars, multiple meal items like peanut butter, as well as toiletries, on a point basis – to students who have an ID card and are registered for classes.
For the Fall semester, The Stand is open: Monday-Thursday 9:00 a.m. to 5:45 p.m. and on Fridays, 9:30 a.m to 2:45 p.m.
Jaime Anrubio, 31 year old Psychology Major at Mesa attended "The Stand: Farmer's Market," and said that it was a pleasant surprise.
"At first i was like, are you sure it is free?"  He continued, "I thought I would pay high prices, but they said 'no, it's free, take a bag.'"
Another student at Mesa, 21 year old Psychology major and Senator of Associated Student Club on campus, Timothy Ackerson, has been to the free farmers market several times, "it has been so excellent," he said.
Commenting further, that "[the free Farmer's market] is fast, easy, quick and has helped me and my family out a lot by providing subsidy.  It's a little bit of weight off our shoulder," he said.
The Stand is part of SD Mesa College's goal, to make it easier for all students, regardless of their economic circumstance, to succeed in college.
The Success, Equity and transformation Committee has been established to further this goal.  Their stated purpose is, "to support and lead innovative campus initiatives that strengthen student access, success, and equity."