Women's soccer routes Coyotes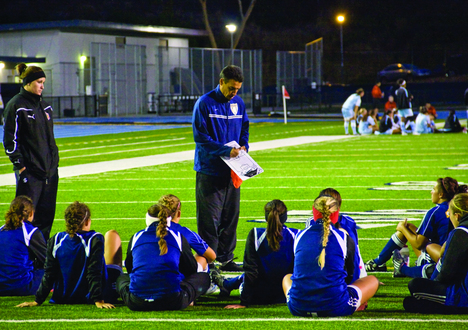 Hang on for a minute...we're trying to find some more stories you might like.
Twenty minutes into second half, forward Jocelyn Ortega stole the ball from a massive clash between the Mesa College Lady Olympians and the Cuyamaca College Coyotes at midfield and ran with it shooting for what became a break away shot that marked the first point for the Lady Olympians in what would become a 2-0 game between the two teams
As of the game the Lady Olympians record is 6-4 overall with 5-1 in conference.
After Ortega's point Cuyamaca stepped up the pressure aggressive play that landed more than one of the Olympian's on the ground. Lady Olympian Coach Todd Curran commented
"I think maybe Cuyamaca started to step up the pressure a little bit to try and find an equalizing goal." Said Lady Olympian coach Todd Curran"
Pressure continued to mount after Lady Olympian center midfielder Brenda Coronel scored a second point for the Lady Olympians, now however, the lady Olympians began to apply pressure back with both teams not so much fighting for the ball as colliding for the ball.
Team captain Chanel Aguilar commented later "Towards the end of the game the other team especially if they're down will get aggressive, pretty much just have to get aggressive back and get a body on it"
While it was the Lady Olympians strong offense that led the team to victory, one of their biggest advantages lied with the Cuyamaca Coyote's. The team's goal keep played awkwardly throughout the whole match with the Coyote's eventually pinning a defender next to the goal full time.
The Lady Olympians are currently tied for first place in conference with Grossmont and Miramar college. The Lady Olympians recently played a game against that ended 1-0 in the Olympians favor and ended Miramar's perfect record in conference.
If the Lady Olympians keep doing well in conference there is a high chance the team will go on to the playoffs. Coach Todd Curran commented "I think we're getting better with every game we play. we'll be well prepared for the playoffs.