Olympians Defeat Southwestern for First Time in Over 25 Years
San Diego Mesa College Football Team Wins Season Opener 14-4
Saturday, Sept. 7, the San Diego Mesa College Olympians began their season with a decisive victory over Southwestern College, resulting in a final score of 14 – 4. A victory that the Olympians had been waiting for over 25 years.
After Southwestern won the coin toss and deferred, Mesa received the kick off to open the first quarter. The Olympians offense came to dominate in the first quarter, charging down the field, concluding the drive with a 14 yard touchdown pass from quarterback #10 Thomas Yam to wide receiver #8 Dom McManus. Shortly after, Southwestern responded responding by sacking Thomas Yam in the end zone, scoring a safety and putting the Jaguars on the board with 2 points.
The second quarter allowed both teams to flex their defensive muscles, with both teams trading possessions, interceptions, and smattering of penalties. Eventually the first half concluded with no further points scored by either team.
The third quarter once again centered around the teams' defenses with the Jaguars coming out slightly ahead. Southwestern scored another safety after Thomas Yam would receive a penalty for intentional grounding, moving into the final quarter with a score of 7-4.
Leading into the fourth quarter, the Olympians could not allow themselves to find comfort in their lead, and they continued to hit the gas. After the Jaguars lost 27 yards on a fourth down possession, Mesa saw an opportunity and took it. Running back #25 Ranse Garner secured 23 yards for his team, marching them right up the goal line, allowing Thomas Yam to finish out the drive with a 1 yard quarterback sneak, locking up the game 14-4.
After the game, Coach Gary Watkins briefly spoke with the Mesa Press, where he revealed that this was the first time Mesa College had won over their across-town rivals in more than 25 years. Coach Watkins was absolutely overjoyed, stressing how hard the team worked for this victory, and how this game would be instrumental in improving recruiting for the school.
When asked about must-see upcoming games Coach Watkins replied without hesitation, "Week 2, that's the only thing that matters. San Diego Mesa College at Golden West next Saturday at 3 p.m. That's the only game that matters, that next one."
When interviewed, quarterback Thomas Yam had little to say, offering no comment on his iced thumb, but taking the time to thank the offensive line, the coaches, and "…both teams' defenses for showing up…" 
About the Contributors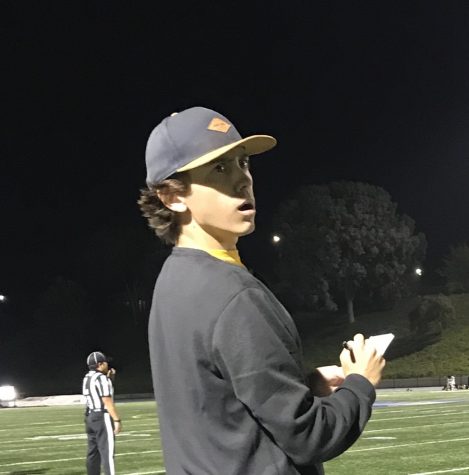 David Doss, Sports Editor
David is beginning his second year at Mesa College and is planning on transferring next fall in order to finish his degree in journalism. When David isn't...
Jaqueline Sanchez Rivera, Photo editor and Staff Writer
This is Jaqueline's last semester at Mesa College and her first time in Mesa Press as a writer and photo editor. She will soon graduate with a philosophy...