Mesa College Men's Soccer Loss against City Knights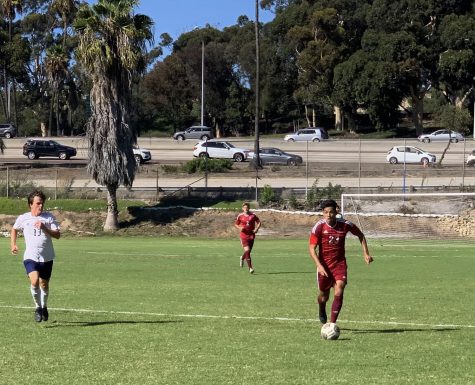 Prior to the upcoming PCAC Conference game this week, San Diego Mesa College men's soccer team lost in advances to the San Diego City College Knights, score being 1-3. This conference season so far has been a slow start for the Olympians; the team has won two games so far. Withstanding their loss, head coach Ray Taila is confident of coming back. He plans to focus on the basics with the team to heighten success for upcoming games.
During the first half, the Olympian's game was looking good, within 20 minutes Zane Wade scored a goal assisted by midfielder Manuel Lopez. The teams were vehemently competing to obtain the ball, but Mesa put up a good fight defending proficiently during the first half.
However, the second half of the game looked like City Knights pushed through the Olympian's defenses and their efforts of shielding the ball. 10 minutes during the second half, the Knights scored a goal. City Knight's midfielders obtained the ball again after their first goal, but only to be juked by Mesa midfielder Kian Meyer. Meyer attempted to score to the side, but the goal was saved. Shortly after, the teams were back close to Mesa's goal and this is where immoderate fouling between the teams began. After City Knight's second score 10 minutes after the first, the Olympians became more persistent with their efforts of trying to score. Two of the Knight's midfielders were given yellow cards for striking other players while trying to steal the ball. The game was filled with an equal amount of fouls, but it looked to be the Knight's playing a little rough. Nonetheless, the City Knights won by scoring the third goal five minutes before the end of the game. The last goal was scored by an off corner kick by Knight's midfielder Erwin Hampton.
"Well, we just need to be more focused. I thought the way we started the game warm-up was flat. I think we need to go back to some basics. Right now we're struggling defensively, we have a lot of injured players, so we have to figure that part of the game out. We need to figure out the right lineup defensively to be ready for the next game."
Head coach Ray Taila believes based on his outlook of the game the team needs to focus on the basics, defense, and passing for the future. One of the issues with their defense Taila has noted was having injured players still recovering.
This Friday the Olympians are scheduled to be playing PCAC Conference game against the Cuyamaca College men's soccer teams starting at 7:00 p.m.
About the Writer
Alexandra Aboukhater, Staff Writer
I'm a Journalism Major at San Diego Mesa College. This is my first year working with Mesa Press. My main focus in this class is to progress with my writing....