Locally Sourced Meals: Heirloom tomatoes are at the top of this season's bounty
From the deep red Brandywines to the brightly colored Pineapple and Green Zebras, heirloom tomatoes are quickly becoming a hot commodity and the prom queens of this year's summer harvest.
Despite the fact that the season will soon be coming to a close, some of the major players in the local farmer's markets right now are heirloom varietals of tomatoes.
With cultivar names like Mr. Stripey, Green Zebra, Mortgage Lifter and Moneymaker, it is easy to see how heirloom tomatoes have grown a cult-like following. In addition to their quaint names, heirlooms tend to have a greater depth of flavor and their vibrant, varying colors lend themselves well to plate presentation.
Heirloom tomatoes are considered to be a more sustainable fruit as they tend to be grown organically and are open-pollinated as opposed to conventional, hybrid tomatoes. This natural form of pollination has created tomatoes that are regionally popular and full-flavored, but aren't
always perfect in appearance.
When purchasing heirloom tomatoes, color will not be uniform, but you should look for firm, unbroken skins. Cracks are naturally occurring and ripe tomatoes should not smell sour, flat or moldy.
The nutrients that are found in heirloom tomatoes include iron, potassium, fiber, B vitamins and lycopene, which may help to prevent cancer and other diseases. When cooked, the lycopene present in tomatoes can be absorbed more efficiently into the body, according to Wholeliving.com.
Instead of purchasing these beautiful fruits from the supermarket, decrease your carbon footprint by visiting one of the weekly farmers markets in your neighborhood. The Valdivia Farm stand of Carlsbad can be found at the Coronado Farmers Market on Tuesday afternoons and currently stocks several varieties of heirloom tomatoes.
To accompany your tomatoes, try them in a salad with local cheese from Spring Hill Cheese Company, sliced in a grilled panini with ripe avocado slices or lightly cooked with basil and garlic as a simple pasta sauce.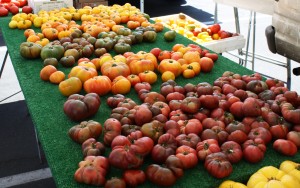 Recipe: Sweet and Salty Caprese
Serves 4
2 Medium Heirloom tomatoes (from Valdivia Farms)
4 Thin Slices of Prosciutto
¼ cup organic garlic cheese curds (from Spring Hill Cheese Company)
4 cup arugula, rinsed and dried
3 basil leaves
1 tablespoon extra-virgin olive oil
1 tablespoon balsamic vinegar
French gray sea salt, to taste
Freshly ground black pepper, to taste
Cut each heirloom tomato into 10 wedges and slice basil leaves into a thin chiffonade.
On 4 small appetizer plates, divide arugulainto 1 cup portions on the end of each plate. Slice prosciutto into ribbons and place on top of the bed of arugula, along with garlic cheese curds.
Arrange tomato wedges next to the arugula, alternating colors if using to different cultivars. Drizzle salads with balsamic vinegar and extra virgin olive oil, then sprinkle with gray sea salt and freshly ground black pepper. Garnish salads with basil.