Locally Sourced Meals: Harvest moon brings celebration for indigenous people
With most Native American cultures the idealistic thought of pilgrims and indigenous peoples happily dining on turkey and pumpkin pie on a cold November day is not an accurate portrayal of "thanksgiving"
For the Hotinoson:ni people – otherwise known as the Iroquois Confederacy in Upstate New York and Canada – the celebration of their harvest thanksgiving is around the time of October's full moon.
During the harvest festival, the community sings, dances, plays games, prays, gives thanks and eats the bounty that Mother Earth has been generous enough to grant the people with.
In the Hotinoson:ni culture, the main food staples of corn, beans and squash – known as the Three Sisters – are traditionally used together in various soup and rice dishes or alone in many other dishes within the culture.
This month give thanks in your own way by cooking this festive Three Sisters baked pasta dish made with sweet corn, dragon's tongue beans and eight ball squash.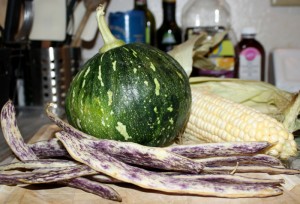 Recipe: Three Sisters Baked Pasta
Serves 2
2 Large Eight Ball Squash (Mr. and Mrs. Green's Farm)
2 Cup Jalapeno Cilantro Rigatone (from Lisko Imports)
2 Cup Ricotta (Gioia Cheese Company)
1 Ear of Corn, shucked (Rodney Farms)
1/2 Teaspoon Yakima Applewood Smoked Sea Salt (Salt Farm)
1/2 Teaspoon Fresh Ground Black Pepper
3 Cloves of Roasted Garlic (Mr. and Mrs. Green's Farm)*
1 teaspoon shallots, minced (Mr. and Mrs. Green's Farm)
6 Dragon's Tongue Beans (Suzie's Farm)
1 Cup Mozzarella Cheese, shredded
1 Teaspoon Sage, chopped (Suzie's Farm)
Preheat oven to 350°F.
Cut the top of each squash off and scoop out the center. Reserve both the top and hollow squash for presentation. Cut beans pods into one inch pieces and set aside.
Cook pasta in boiling water until al dente, approximately five minutes. Drain water and set pasta aside.
In a small bowl mix the ricotta, shucked corn, 1/2 teaspoon of smoked sea salt, black pepper, roasted garlic, 1 teaspoon of minced shallot.
Gently fold pasta and beans into ricotta cheese mixture and distribute evenly into the two squash "bowls." Top pasta with mozzarella and dust with additional black pepper and smoked sea salt before baking for 30 minutes or until squash has softened and mozzarella begins to brown. Garnish pasta with chopped sage and serve with the squash's "lid."
*Note: To roast garlic, cut the tops off of two bulbs of garlic, cover with 1 tablespoon of olive oil and wrap in aluminum foil. Bake at 400°F for about 20 minutes or until the cloves have soften and become golden brown in color. Cover and refrigerate any leftovers.